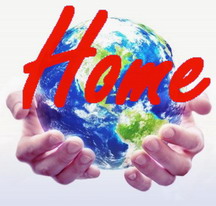 English Flyers:
Basiccourse Zagreb and Ossijek
English Handbooks in docx:
Followup courses:
English Handbooks in PDF:
Followup courses: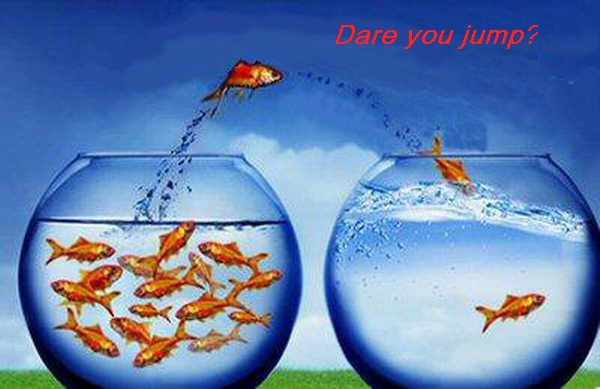 A 30 hours Basic course in Communication Skills
Neuro Linguistic Programming, Alternatives to Violence Project, Non-Violent Communication and Solution Focused Practice)
information: see flyer and: sytsemarlies@home.nl
What is NLP?
NLP is a method by which people can change themselves.
NLP came to the Netherlands from the United States. There, Richard Bandler and John Grinder studied the structure of communication and change.
They found that language, neuropsychology and cybernetics are the foundation. They named this new technique: Neuro Linguistic Programming. Since then, NLP renewed strong. At the moment there are only in Netherlands more than 50 NLP Institutes which are training NLP Practitioner and other NLP courses.
What does NLP?
Neurological: All information we get comes through our senses and our nerves (neurons) and is transported to the central nervous system and stored in our memory. What we experience in our lives whether or not conducive to the development of our own identity. The memories of these experiences, our feelings, thoughts and emotions control our behavior in the 'now'. Behavior consists of words, tonality and bodylanguage. Sometimes we want to change our behavior different than we actually do. Behavior is essential in our lives. We meet each other with this behavior. We connect with each others, to let things from ourselves know to the other; this we call communication.

Linguistic: We do communicate through spoken language (lingua = tongue or language). The body has its language these are postures, gestures, pitches, facial expressions and other nonverbal behavior.

Programming: While we can communicate others, or others with us, something to learn, unlearn and change. We influence our own behavior and therefore also that of others.
Basic course in Haifa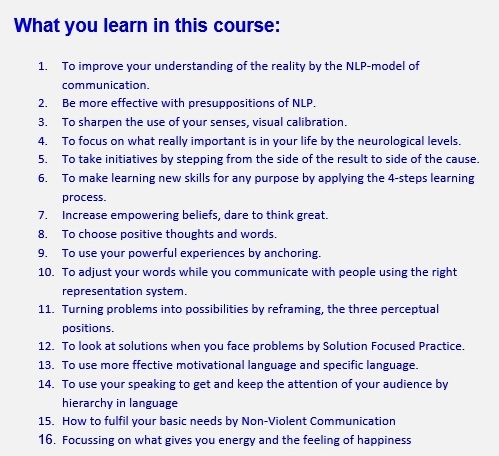 Improve your relations with NLP